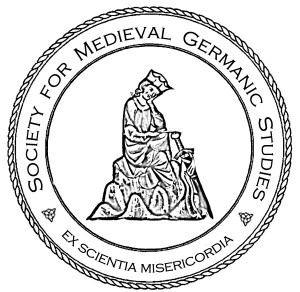 Dear Colleagues,
Again we are delighted that The Society for Medieval German Studies is sponsoring five sessions at the 42nd Congress on Medieval Studies in Kalamazoo. We wish to thank our new SMGS Organizer, Stephen Mark Carey (Georgia State University), who has put together an exciting program for us. We are also pleased that the second recipient of the Sidney M. Johnson Award, April Henry (University of North Carolina at Chapel Hill) will be presenting at one of our SMGS sessions. At the New Books Round Table this year, SMGS features the recent book by Kathryn Starkey (University of North Carolina at Chapel Hill). To all our colleagues and friends we wish a pleasant spring and a relaxing and productive summer.
Table of Contents
SMGS Sessions at Kalamazoo 2007
New Books Roundtable
The Sidney M. Johnson Award for 2007
New Books Received for SMGS Review
SMGS Review
News from Colleagues
SMGS Sessions at Kalamazoo 2007
Session I (172)
Valley 1 100
Thursday, 10 May, 7:30 p.m.
Myths of the Feminine in Middle High German Literature
Organizer: Stephen Mark Carey (Georgia State University)
Presider: Sarah Westphal-Wihl (Rice University)
"Gender models and their subversion: The Amazon-myth in MHG Literature"
Cordula Politis (Trinity College Dublin)
"Tempus Muliebre in Thirteenth-Century Courtly Literature?"
Karina Marie Ash (University of California, Los Angeles)
"Gender and Spiritual Victory in Eupolemius' Messiad"
Ernst Ralf Hintz (Truman State University)
Session II (231)
Schneider 1160
Friday, 11 May, 10:00 a.m.
Tradition and Innovation: Reconsidering Medieval German Conduct Literature
Organizer: Stephen Mark Carey (Georgia State University)
Presider: Stephen Mark Carey (Georgia State University)
Creating Conduct Literature through Mise-en-Page: Der Welsche Gast in Heidelberg, Universitätsbibliothek, cpg 389 (1270) and Gotha, Forschungsbibliothek,
Memb I 120 (1340).
Kathryn Starkey (University of North Carolina at Chapel Hill)
"Ditz buoch sæt nu von der frawen werdikeit": The Construction of Virtue in Die Winsbeckin in Berlin, Staatsbibliothek zu Berlin Preussischer Kulturbesitz, mgf 474.
Olga V. Trokhimenko (University of North Carolina at Wilmington)
"Free Spirits" in the Middle Ages? The Problem of Translating Vrî in Der Winsbecke and Die Winsbeckin.
Ann Marie Rasmussen (Duke University)
Session III (289)
Schneider 1160
Friday, 11 May, 1:30 p.m.
Nibelungen Matters I
Organizer: Stephen Mark Carey (Georgia State University)
Presider: Stephen Mark Carey (Georgia State University)
"Does the Nibelungenlied have a Message?"
Winder McConnell (University of California at Davis
"Dragons in Medieval German Heldenepik"
Edward R. Haymes (Cleveland State University)
"Neues zur Nibelungensage – und die Folgen"
Max Siller (Universität Innsbruck)
Session IV (347)
Schneider 1145
Friday, 11 May, 3:30 p.m.
Nibelungen Matters II
Organizer: Stephen Mark Carey (Georgia State University)
Presider: Ray Wakefield (University of Minnesota-Twin Cities)
"Restoring the Female Lament in diu Clage"
April Henry (University of North Carolina at Chapel Hill)
"Die Nibelungen: 'Fluch des Drachens' (2004) and its Treatment of Source Materials"
Evelyn Meyer (Saint Louis University)
"Bad News: Wild Women in Medieval German Epic Romance"
Sarah Westphal-Wihl (Rice University)
ew Books Roundtable
Presider: Ernst Ralf Hintz (Truman State University)
Kathryn Starkey (University of North Carolina at Chapel Hill) will be presenting her recent contribution to our field:
Reading the Medieval Book: Word, Image, and Performance in Wolfram von Eschenbach's Willehalm, University of Notre Dame Press, 2004. ISBN: 0-268-04108-3.
SMGS looks forward to seeing you at this well-received and enjoyable session at Kalamazoo, Friday evening, 11 May, Bernhard 157, 8:00 p.m.
The Sidney M. Johnson Award for 2007
SMGS is delighted to announce the second Sidney M. Johnson Award for the best abstract submitted to SMGS from a graduate student. The recipient for 2007 will be April Henry (University of North Carolina-Chapel Hill) for her submission "Restoring the Female Lament in diu Chlage." We are looking forward to hearing her presentation in SMGS Session IV at Kalamazoo, 2007.
New Books Received for SMGS Review
HerwigWolfram, Conrad II 990-1039
Emperor of Three Kingdoms, translation by Denise A. Kaiser, Penn State Press, 2006,
ISBN: 0-271-02738-X.
German Literature of the High Middle Ages, edited by Will Hasty, Camden House History of German Literature, Vol. 3. 2006. ISBN: 1-57113-173-6.
SMGS Reviews
Katyryn Starkey, Reading the Medieval Book: Word, Image, and Performance in Wolfram von Eschenbach's Willehalm, University of Notre Dame, 2004.
It is a great pleasure to review Kathryn Starkey's recent Reading the Medieval Book: Word, Image, and Performance in Wolfram von Eschenbach's Willehalm, which we will look forward to discussing at the upcoming SMGS New Books Roundtable at the Medieval Congress in Kalamazoo on Friday, May 11. Starkey discusses Wolfram von Eschenbach's Willehalm and the text's manuscript tradition and reception, using a multi-faceted approach that incorporates "the visual and the aural, the textual and material object" to interpret the poem "as it presents itself materially in a medieval manuscript that is a product of historical circumstance and context." (19) The result is an insightful analysis that offers a new multivalent understanding of the medieval process of reading.
Starkey divides her book into two sections. Part 1 (Orality, Visuality, and the Poetic Medium) deals with the text and explores a variety of performance and narrative strategies revealed in Wolfram's poem. Part 2 (Word as Image, Image as Word) turns to the unique visual program found in the Munich-Nuremberg manuscript of Willehalm. Although Willehalm was one of the most popular texts in the 13th century, it has not retained a primary focus in the modern medieval corpus in German (over-shadowed by its contemporaries Parzival and the Nibelungenlied). Starkey thus begins her discussion of Willehalm in chapter 1 with an examination of the poem's main themes (language, multi-lingualism, cultural performance) to recover the poem for twenty-first century readers.
After establishing Wolfram's general emphasis on language and voice in the text, Starkey goes on to explore in detail the nature and the nuances of language and performance in the text (chapters 2 and 3) in the major environments of the narrative's setting (on the battlefield and at court). Chapter 4 deals with the language and performance of narrator, who "enables the author to manipulate the audience's identification and sympathy with the characters and events." Thus the narrator functions to encourage the participation of the audience. The figure and function of the narrator, Wolfram's obvious emphasis on language and performance, and the fact that Willehalm was "the most widely illustrated secular text of the German Middle Ages," (97) lead Starkey to part 2 of the book (Word as Image, Image as Word).
Part 2 explores the implications of the narrator and the narrative strategies for the text's reception using the example of the Munich-Nuremberg manuscript. After a detailed examination of the manuscript's images in chapter 5, Starkey turns to a more thorough analysis of the narrator's portrayal in the manuscript images in chapters 6. The addition of the narrator to the images provides another layer in a complex and well-crafted visual narrative that can address an "visually and aurally literate" audience that may familiar with understanding performance cues but may not be familiar with deciphering a written text. Thus the text and its images form a sophisticated hybrid "reading" medium: "By visualizing the structure and narrative nuances of the text, the artists have also made voicing, perspective, and poetic medium a thematic concern in the visual program." (142) And this concern, Starkey argues, could be seen as one not unique only to Willehalm; other contemporary manuscripts share a similar (visual) narrative program, notably of Der Welsche Gast and the Sachsenspiegel.
If Reading the Medieval Book is any indication, these visual narrative programs are beginning to receive the recognition they deserve. Thirteenth-century poets and artists were obviously concerned with issues of visuality and aurality, of literacy and orality, performance and self-reflexive understanding. Reading the Medieval Book takes the modern reader through the multi-layered process of "reading" the medieval Willehalm through the Munich-Muremberg manuscript. Thus, Kathryn Starkey offers us a finely nuanced understanding of medieval "reading" and a new appreciation of the complexity of medieval narrative strategies in word and image.
Alexandra Sterling-Hellenbrand (Appalachian State University)
Joseph M. Sullivan, Counsel in Middle High German Arthurian Romance. (Göppinger Arbeiten zur Germanistik Nr. 690) Kümmerle Verlag: Göppingen, 2001. Pp.146.
"While flatterers endeavor to please the prince, the truths are silent, and the flatteries promulgated, and they abandon the whole principality or kingdom to danger." These words from the De regimine principum (ca. 1275) of the Doctor Fundatissimus, Aegidius Romanus, find such overwhelming substantiation in our contemporary political situation, that one could hardly exaggerate the importance of studying the history of counsel and its literary representation. Particularly in the case of Arthurian Romance, more often than not, an episode involving counsel, either public or private, initiates the adventure and constitutes one of the main elements driving the narrative. Since the lesser nobility commissioned these texts, one might expect to find an emphasis placed on the importance of their own political function. It is, however, quite surprising to discover that very little work had been done specifically on this material in the genre of Middle High German Arthurian Romance up to the appearance of Joseph Sullivan's book in 2001. This work represents a revised version of the author's doctoral dissertation completed under the supervision of Hubert P. Heinen at the University of Texas in 1999 and still stands as the most complete treatment of this topic in Middle High German Arthurian Literature.
Sullivan begins with an overview of counsel in the Middle Ages, which, given importance of counselors within medieval political structures, constitutes a sub-genre of medieval Latin literature. Prior to this work, which concentrates on Arthurian works produced in the German vernacular from 1185 – 1290, the few works that focused on this theme in Middle High German literature were limited to treatments of heroic epic and, within that genre, primarily to the narrative function of counsel. Sullivan departs from this critical approach by uncovering the historical basis for these episodes and concentrating on the "didactic, legal, political, and religious writings treating counsel, both written in Latin and in the medieval European vernaculars."(6) Therefore, the introduction provides an overview of historical scholarship on counsel, distinguishing between public and private counsel, as well as touching on specialized scenarios and semantic differences in various linguistic traditions, specifically Latin and Middle High German. Sullivan points to the work of historians like Gerd Althoff and several others to highlight areas of intersection and to insert the examination into the wider literary and historical discussion on political forms and practice in the Middle Ages.
The three main chapters constitute case studies of counsel in three bodies of work, The Prose Lancelot, the Yvain of Chrétien de Troyes, Iwein from Hartmann von Aue, and Hartman's Erec. Sullivan situates these narratives in the broader frame of twelfth and thirteenth century continental literature, and generates a definition of medieval counsel that is both specific to these individual works as well as applicable to the literature contemporary to them. In chapter two, "The Lancelot Proper of the Middle High German Prose Lancelot as a Manual of Counsel," the author demonstrates a familiarity with the French and Latin sources and employs the episode of Phariens and Lambegus to introduce the recurring them of age and counsel. He treats the episode of the False Guenevere to explore false counsel and concludes with a treatment of Arquois and King Claudas to examine issues of feudal obligations on the part of the lord to heed the counsel his vassals, drawing, in each case, upon corresponding Latin and vernacular literature to provide the reader with a cultural context to interpret these works on their own terms. Sullivan unfolds major aspects of medieval counsel, pointing to actual historical precedents and demonstrates that the Lancelot Proper exceeds the bounds of traditional medieval counsel by emphasizing the importance of the lesser nobility in the governance of the state, a role that finds it main expression in advice given to the prince or king. The chapter also treats major tropes of the representation of counsel, upon which the author builds as each chapter treats issues of counsel in greater detail.
In chapter three, "Lunete: Literary Conventions of Counsel and the Criticism of Counsel in Chrétien de Troye's Yvain and Hartman von Aue's Iwein," issues of private counsel and literary critical stances towards the practice of counsel comprise the main part of the discussion. In the comparison of the leading female figures in these two works, Laudine and Lunete, Sullivan shows that in both works the roles played by each in giving and receiving counsel create a gendered dichotomy in which Lunete can be seen as playing the masculine role. The representations of counsel in these works also support established scholarship which hold that Hartmann's presentation to be far less nuanced and more straightforward than that of the French original. I still tend to think that this perception has far more to do with Germanists being far less willing to accept double entendre than Romanists. Nonetheless, as Sullivan demonstrates, Hartmann abridges the representations of counsel found in Chrétien's work and thereby eliminates a good deal of the complexity. This chapter also treats the role of the counselor as intermediary and the specific obligations associated with this duty, again relying on corresponding material from Latin and other vernacular traditions to produce an historically grounded analysis.
Chapter four, "Rejecting Counsel of the Host in Hartmann's Erec and the Middle High German Arthurian Verse Romance," Sullivan covers an aspect of counsel which he demonstrates to be largely literary, standing in opposition to the body of didactic literature which informed the aspects of counsel treated up to this point. "It is safe to conclude then that the motif of the rejection of the host's advice is largely a literary and fictitious construct. Its tenuous connection to historical reality resides alone in a medieval understanding of counsel that sanctioned the rejection of advice, but in situations very much unlike those in which one encounters the motif." (102) Sullivan examines three episodes in Hartmann's Erec, in which the titular hero rejects the advice of his hosts (Imain, Guivreiz and Ivrein). Particularly with regards to the rejection of Ivrein's advice, traditional critical formulations which hold Hartmann to be more "spiritual" than Chrétien are substantiated. As is in the previous chapter comparing Iwein and Ywain, this examination demonstrates variance between the representation of courtly form in Chrétien's work and Hartmann's tendency to reshape the material to serve a moral didactic intent.
Sullivan concludes by noting the homogeneity of the representation of counsel in Middle High German romance, which this study evidences through the consideration of a much wider range of texts than could be mentioned in this brief review. Sullivan also provides an excellent frame work for distinguishing between "historical realism" in the medieval texts and literary manipulations of or deviations from the historical reality. Sullivan's work provides not only a fine introduction to the ubiquitous theme of counsel but also detailed studies of major works well-grounded in the broader literary historical context. Therefore, I highly recommend this work as a valuable resource for both literary scholars and historians of the medieval period.
Stephen Mark Carey (Georgia State University)
SMGS News from Colleagues
Helmut Brall-Tuchel (Lehrstuhl für Ältere deutsche Sprache und Literatur, Heinrich-Heine-Universität Düsseldorf) has recently founded a new research institution that merits our attention:
Institut für Geschichte der mittelalterlichen Literatur der Rheinlande (IGeL).
Zweck des Instituts ist die interdisziplinäre Erforschung der Geschichte der mittelalterlichen Literatur der Rheinlande. Diese Aufgabe wird wahrgenommen insbesondere durch die Förderung der Zusammenarbeit mit wissenschaftlichen und kulturellen Institutionen mit vergleichbarer Zielsetzung sowie die öffentliche Präsentation von Projekten und Arbeitsergebnissen zur Kulturgeschichte der Region Rheinland.
Jonathan Clark
(Concordia College) has become a new member of SMGS. He will be sponsoring two sessions on behalf of
SGRABL
for the 2007 MLA in Chicago. Session 1 will be on
Demonizations
, and Session 2 on
Laughter
. For more information on
SGRABL
:
clark@cord.edu
Albrecht Classen (University of Arizona, Tucson) has organized an International Symposium on the History of Sexuality in the Middle Ages and the Renaissance at the University of Arizona, Tucson, May 3-6, 2007.
Maria Dobozy (University of Utah) wishes to announce a Call for Papers for the International Conference: Early Modern Medievalisms: the Interplay between Scholarly Reflection and Artistic Production (Leiden University, August 2008). SMGS regrets that the News & Reviews was unable to appear until shortly after the deadline for submission, 1 May, 2007. Should you still be interested in submitting, please contact Alicia C. Montoya (Department of French, University of Leiden) without delay: A.C.Montoya@Let.Leidenuniv.nl
Francis G. Gentry (The Pennsylvania State University), editor in chief, is pleased to announce an exciting new series: Medieval and Renaissance Authors and Texts from Brill Leiden. For more information, contact Professor Francis G. Gentry, fgg1@psu.edu or Julian Deahl, deahl@brill.nl
Matthew Heintzelman (Hill Museum & Manuscript Library) announces a new research stipend opportunity for graduate students or those who are within three years of completing a terminal master's or doctoral degree: Heckman Research Stipends.
Deadline extended to May 15, 2007. Direct all inquiries and materials to The Committee on Research, Hill Museum & Manuscript Library, Box 7300. Saint John's University, Collegeville, MN 56321-7300 or directed to hmml@csbsju.edu or fax (320) 363-3222.
Karl Heinz (Institute for the Research on Ecclesiastical Sources IEEkQ) has recently expanded the website for the Virtual Archive of Historical Documents in Central Europe. The archives of Central European monasteries and dioceses house important documents of great cultural value. However, these valuable documents are located in hundreds of archives and therefore difficult to access. The website www.monasterium.net provides unlimited access to all these original historical sources dating from the Early Middle Ages up to the present time. So everyone can gain a better understanding of historical events and a thousand years of history. The MOM archive is truly unique worldwide.
You may contact Karl Heinz at karl.heinz@monasterium.net for additional information. SMGS wishes to congratulate him for this necessary and important work.
William Layher (Washington University in St. Louis) has announced an exciting, new website for YMAGINA: http://www.ymagina.org "to further our academic mission and facilitate contacts and networking amongst scholars in Medieval German Studies."
Great thanks from SMGS on establishing a website that is certain to make a valuable contribution to our medievalist community.
Die Oswald-von-Wolkenstein-Gesellschaft is sponsoring the following conference:
Eulenspiegel trifft Melusine
Der Frühneuhochdeutsche Prosaroman im Licht neuerer Methodenparadigmen.
Eine Tagung der Section d'allemand der Universität Lausanne in Zusammenarbeit mit der Oswald-von-Wolkenstein-Gesellschaft vom 1.10 bis 5.10. 2008.
You may contact:
Alexander Schwarz alexander.schwarz@unil.ch
Catherine Drittenbass Catherine.drittenbass@unil.ch
André Schnyder andre.schnyder@unil.ch
Marc Pierce (University of Michigan at Ann Arbor) has organized a session for Kalamazoo 2007 entitled: The Old Saxon Heliand, sponsored by The West Virginia University Press. The presentations and presenters include:
(1) "V2 in Old Saxon" Tonya Kim Dewey (University of California, Berkeley)
(2) "The Emergence of Old Saxon Studies in Germany, 1830-1921"
Marc Pierce (University of Michigan at Ann Arbor)
(3) "Toward a Model of Hypermetric Verses in the Old Saxon Heliand"
Douglas Simms (SIU-Edwardsville)
Session 312, Sangren 2212 Friday, 11 May, 1:30 pm.
Should you wish additional information: mpierc@umich.edu
Scott E. Pincikowski (Hood College) is newly tenured and will be on sabbatical for Fall 2007. Our congratulations!
Christoph J. Steppich (Texas A&M University) has organized another in his series of sessions: Wolfram von Eschenbach. Presider: Rosmarie Thee Morewedge (Binghamton University). The presentations and presenters are:
(1) "The Song Remains the Same: Bumke and the Blutstropfenepisode"
Stephen Mark Carey (Georgia State University)
(2) "Die Frauen Gottes: Parzivals unselige Liebe"
Katharina Pektor (Universität Salzburg)
(3) "Boy Meets Grail: The Secularization of Spiritual Redemption in Wagner's Parsifal"
Lowell Duckert (Arizona State University)
The SMGS News & Reviews is edited by Ernst Ralf Hintz (Truman State University).
We wish to thank our technical expert, Ben Ogden, for his expertise in providing the online version with both readability and elegance. We also wish to thank the Division of Language & Literature at Truman State University for its support of this publication. All errors and oversights are attributable solely to me as editor.
The SMGS readership still continues to grow steadily as does the interest in receiving the SMGS News & Reviews online. Should you wish to contribute to the section on SMGS News from Colleagues or if you know of a colleague who would be interested in membership (there are no dues), you may contact me at ehintz@truman.edu or fax (660-785-7486), or write to the following address: Ernst Ralf Hintz, German and Medieval Studies, Truman State University, McClain Hall 310, Kirksville, MO 63501-4221 (U.S.A.).
The next issue of the SMGS News & Reviews appears in October 2007.
On behalf of Stephen Mark Carey and Ernst Ralf Hintz,
All good wishes from SMGS!