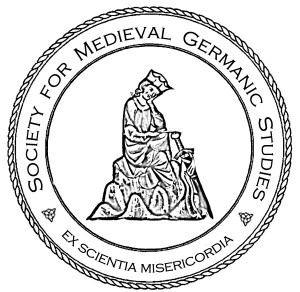 Dear Colleagues,
The Society for Medieval Germanic Studies is sponsoring four sessions at the 54th Congress on Medieval Studies in Kalamazoo May 9-12, 2019. We wish to thank our SMGS Organizers, Evelyn Meyer (Saint Louis University), Alexandra Sterling-Hellenbrand (Appalachia State University) and Joseph M. Sullivan (University of Oklahoma) for their time and effort in assembling this year's program of new research.
Table of Contents
SMGS Sessions at Kalamazoo 2019
New Books Roundtable
The Sidney M. Johnson/Ulrich Müller Award for 2019
SMGS Review
SMGS sponsored Sessions at Kalamazoo 2019
 
Experiencing Textiles in Medieval Culture and German Literature
Session Organizers: Evelyn Meyer, Alexandra Sterling-Hellenbrand, Joseph M. Sullivan
Presider: Ernst Ralf Hintz (Truman State University)
Hannah Hunter-Parker (Princeton University): Mit kunkeln und mit schaeren: Tools for Reading Textiles in Medieval German Texts
Winner of the Johnson-Müller Prize for Best Abstract Submitted by a Graduate Student
Kathryn Starkey (Stanford University): Weaving Words, Spinning Yarns, and Embroidering the Truth in Medieval German Literature
Ann Marie Rasmussen (University of Waterloo): Who and What Do You Pin It On? Badges and Belonging in late Medieval Europe
Respondent: Monica L. Wright (University of Louisiana at Lafayette)
German Courtly Narrative and Lyric: Rethinking Sources and Influences
Sponsoring Organisation: Society for Medieval Germanic Studies
Session Organizers: Evelyn Meyer, Alexandra Sterling-Hellenbrand, Joseph M. Sullivan
Presider: Alexandra Sterling-Hellenbrand (Appalachia State University)
Jonathan Seelye Martin (Illinois State University): Unequal Equality: Erec as Head of his Wife in Hartmann von Aue's Erec
Matthias Daeumer (University of Vienna): Of Sentinels and Neutral Angels: On the Connection Between the Jewish 'Book of Watchers' and Wolfram von Eschenbach's Grail Mythology
Susanne Hafner (Fordham University): What happened at the sumer von triere? Friedrich von Hausen and his crux 
Respondent: Alexandra Sterling-Hellenbrand (Appalachia State University)
III. Longs, Shorts, and Shouts: Attitudes and Strategies in Poetry and Narrative
Sponsoring Organisation: Society for Medieval Germanic Studies
Session Organizers: Evelyn Meyer, Alexandra Sterling-Hellenbrand, Joseph M. Sullivan
Presider: Joseph M. Sullivan (University of Oklahoma)
Olga V. Trokhimenko (University of North Carolina at Wilmington) "Long Hair, Little Sense": Revisiting the Proverbial Stereotype
Lena Zudrell (University of Vienna) One Tenth of Tandareis: On Characters and Programmatic Reduction of Arthurian Literature
Matthias Meyer (University of Vienna) Aha-Experiences in Middle High German Poetry? The Case of Frauenlob.
Respondent: Joseph M. Sullivan (University of Oklahoma)
New Books Roundtable
Moderator: Ernst Ralf Hintz (Truman State University)
Tina M. Boyer (Wake Forest University) The Giant Hero in Medieval Literature (2016)
Respondent: Evelyn Meyer (Saint Louis University)
 
 
 
The Sidney M. Johnson/Ulrich Müller Award for 2019
The Sidney M. Johnson/Ulrich Müller Award for the best abstract submitted to SMGS from a graduate student will be presented to Hannah Hunter-Parker (   )
for her submission: Mit kunkeln und mit schaeren: Tools for Reading Textiles in Medieval German Texts.
We strongly encourage the submission of abstracts beginning September 2019 for the 2020 award.
Books received for Review
The Medieval Risk-Reward Society: Courts, Adventure, and Love in the European Middle Ages, Will Hasty, Ohio State University Press: Columbus, 2016. ISBN 9780814213032
Ruling the Spirit: Women, Liturgy, and Dominican Reform in Late Medieval Germany,
Claire Taylor Jones, University of Pennsylvania Press: Philadelphia, 2018.
ISBN 9780812249552
The Giant Hero in Medieval Literature, Tina Marie Boyer, Series: Explorations in Medieval Culture, Vol. 2, Brill:  2016. ISBN: 978-90-04-31641-6
Beringer, Alison L. The Sight of Semiramis: Medieval and Early Modern Narratives of the Babylonian Queen. Arizona Center for Medieval and Renaissance Studies, 2016.
Alison L. Beringer's new book seeks to present and shed light on various medieval and early modern legends surrounding the ancient Babylonian Queen, Semiramis.  Legendary builder of Babylon and other ancient cities, military conqueror, invader of India, beautiful noble woman, cross-dresser, daughter of a goddess, raised by doves, Semiramis has attracted attention throughout the ages, and her story was told in many different versions. Beringer's principal sources include several texts in medieval and early modern German dialects, and she compares these with a number of ancient and medieval legends from various linguistic and geographic contexts.
"The Statue of Liberty is not Semiramis – whatever Google says" (xiii). So begins Beringer's book. After a brief introduction that exposes the questionable scholarship that has encouraged popular views of Semiramis that are not supported by premodern textual evidence – in other words, after considering what Semiramis is NOT – Beringer provides six chapters on the classical, medieval, and early modern evidence constructing images of the ancient queen. The first chapter, nonetheless, argues that the premodern situation was no less convoluted than contemporary mis-identification of Semiramis, with many versions of the queen's history circulating in Antiquity, the Middle Ages and the early modern periods. Semiramis could apparently stand in for many an ancient Babylonian or Persian queen, even being equated in one story with the mythological Rhea, wife of Kronos, and elements were continually being added and modified to her image. Beringer thus argues for the fluidity of the story, depending highly on the context in which the legend is included: "Semiramis—woman, name, story—is of interest precisely because her identity consists of a lack of identity, in that potential for narrative plurality that defies any attempt at the neat and the definitive—and creates a fertile openness in the tales told of her over the centuries" (4). Despite the diverse material analyzed, Beringer confirms the view of earlier scholarship that the classical versions of the queen's story tend to portray her more positively for her engineering successes and military prowess, whereas, not surprisingly, the medieval traditions arising at the time of the early Church Fathers associate her more negatively with lechery and sexual transgressions. There is much variation, though, within that general trajectory, and so Beringer focuses, in the remainder of her book, on the motif of sight and viewing, seeing or being seen alluded to in the title. This organizational method provides a theoretical and innovative way to present the various accounts of Semiramis.
The second chapter discusses a particular version of Semiramis's life by Diodorus Siculus from the first century BCE, the lengthiest and most complete of her stories extant from Antiquity.  Chapters three to five focus on the visual topographies alluded to in the title of the book. Chapter three "Manipulating the Sight and Site of Royal Bodies" explores the literary representations of Semiramis revealing or concealing royal bodies, particularly her own through cross-dressing, and considers the repercussions of this on the construction and destabilization of gendered roles.  Beringer concludes that "what the stories [of Semiramis] suggest is that real power lies not in language and commandments, not in what the ear hears, but in sights, in what the eye sees" (98).
"Viewing the Royal Body" is the title of chapter four. Here Beringer focuses on the effects that witnessing Semiramis's body, dead or alive, have on the mostly male viewers within the narratives. The latter part of this chapter analyzes in some detail the late Byzantine romance known as "The Narrative of Alexander and Semiramis" and considers its similarities to the myth of Perseus and Medusa.
Chapter five, "Semiramis as Viewer" discusses "the idea that seeing can lead to destruction" (169) by analyzing representations of idolatry and incest—both manifestations of luxuria in the medieval understanding of the sin, as Beringer points out—in the story of Semiramis found in Rudolf von Ems's Weltchronik , and in illustrations of the queen's story from a selection of manuscripts. A concise conclusion rounds out the study, followed by an appendix with transcriptions of some of the Meisterlieder referenced in the analysis.
Beringer analyzes material from a diverse representation of texts, including the accounts from the first century BCE Library of History by Diodorus Siculus, the late antique Epitome of the Philippic History of Pompeius Trogus by Justinus, The Seven Books of History against the Pagans by Paulus Orosius, a pre-eleventh century anonymous Latin poem Semiramis, Giovanni Boccaccio's Famous Women, and Christine de Pizan's The Book of the City of Ladies, as well as several German texts, such as Rudolf von Ems's Weltchronik, the anonymous Christherre –Chronik, and Meisterlieder by Hans Sachs, Kaspar Klippisch, Georg Braun, and Georg Danbeck.
Notable aspects of Beringer's study include her focus on Semiramis's cross-dressing, her military successes and her frequent gender identification as male within the texts; as well as the consideration of how the various contexts differ widely in their treatment of Semiramis's alleged sexual transgressions such as incestuous desire and excessive passion. Beringer's inclusion of transcriptions and analysis of the Meisterlieder makes this study unique and a noteworthy contribution to scholarship on the representation of Semiramis throughout the ages, both within German Studies, as well as in a comparative context.  A wider reach and analysis of a greater number of non-Western sources would be a welcome possibility for further study.
Marian Elizabeth Polhill (University of Puerto Rico, Río Piedras)
The Forest in Medieval German Literature: Ecocritical Readings from an Historical Perspective, Albrecht Classen, Lexington Books: London, 2015.
ISBN: 978-0-7391-9518-5. (reprinted from the 2018 Kalamazoo edition per request)
As a student in Heidelberg I often climbed to the Philosophenweg to look down at the Neckar and wander through the forest, only stopping at the Celtic fortifications to imagine the sight of Roman legions marching over the horizon ca. 50 BCE. Classen shares in this fascination for the forest. Looking at the transformative agency of the forest spanning classical works from Hartmann, Wolfram and Gottfried to late medieval texts from The Pleier and Konrad von Würzburg, to early modern works represented by Königen Sibille of Elisabeth von Nassau-Saarbrücken and Thüring von Ringoltigen's Melusine, the author offers us a valuable ecocritical analysis and interpretative approach. Yet, the motivation for researching this area is not purely academic: "The burning question in medieval studies centers nowadays very much on how we can motivate our students to pay attention to literary texts from the premodern era, how to make them relevant again, or how to preserve their traditional role within the larger canon of Western literature." (16) In doing so, Classen reevaluates the iconographical meaning of sylvan space for medieval culture in terms of "symbol, value and metaphor." In the author's words: "… I will simply ask what the forest mattered for a variety of medieval German poets and how they utilized that space for their specific purposes in the development of the characters and the plot." (17) The forest as a "biotope sui generis" that captivates eco-friendly people today will hardly have interested medieval poets, yet the forest had a demonstrative narrative function that was more than mere backdrop. Analyzing Tristan from an ecocritical perspective, Classen calls our attention to the highly neglected dynamic quality of the forest. "In terms of narratology, … the forest as a fictional space provided Gottfried with a great opportunity to explore existential challenges and to outline how the protagonists cope with fundamental conflicts pitting them against the mores of courtly society." (119) Accordingly, this dynamic quality of the forest often signals an imminent transformative change that is about to overtake the protagonist(s). Classen observes further that the forest as cultural and literary motif goes beyond a simple binary concept of light and darkness, good and evil. Sylvan narrative iconology can be fluid and complex to reflect a central tenet of good literature and life itself—ambiguity. The author convincingly demonstrates the centrality of this notion in his analysis of Thüring von Ringoltigen's 15th-century rendition of the tale of Melusine. The reader will also find the photograph of the 1483 "Memorial Stone Cross" near the Wartburg illustrative as it depicts the wild boar and inadvertent killing of Emrich by Reymund. (192)
In sum, the book is well written and researched. Classen introduces us to a useful literary approach that enables us with greater precision to see the forest for the trees. I am certain the reader will enjoy reading Classen's ecocritical study of The Forest in Medieval Literature as much as I did.
Ernst Ralf Hintz (Truman State University)
SMGS Reviews
Reviews to appear in the Fall/Winter edition of the SMGS News & Reviews
News from Colleagues
You are welcome to submit news of papers presented, articles and books written, promotions and new positions to SMGS for the next edition.
Helmut Brall-Tuchel, Anke Peters (Heinrich-Heine-Universität Düsseldorf): "Krankheiten die man nicht heilen kann", in: Bechmann, Sascha (Hrsg.) Sprache und Medizin. Interdisziplinäre Beiträge zur medizinischen Sprache und Kommunikation, Berlin 2017, 373-397
Helmut Brall-Tuchel, Jerusalem im Pilgerbericht Arnolds von Harff (1496-98), in: Jerusalem in Aachen – "Aachener" in Jerusalem. Mittelalter und Frühe Neuzeit. Vorträgedes Studientages in Aachen am 5. November 2016, Hrsg. Vom Geschichtsvereinfür das Bistum Aachen e.V., Neustadt a. d. Aisch, 2018 (Geschichte im Bistum Aachen – Beiheft 9, 145-170)
-, Arnold von Harff: Ritter – Pilger – Dichter, in:  Karlheinz Wiegmann (Hg.): Aufbruch in die Ferne. Mit Gladbacher Reisenden durch die Jahrhunderte, Mönchengladbach (2017), 36 – 45
-,  Orientdiskurse in der deutschen Literatur des Mittelalters, in: Germanistische Studien. Eine Zeitschrift des Vereins Deutsche Sprache, Nr. 11, Dortmund/Tiflis (2017), S.180-195
-, Stadt – Land – Fluss. Zum Verhältnis von Kultur und Natur in frühhumanistischen Reiseberichten, in: Elmar Schafroth, Domenico Conte (Hgg.): Natura e cultura nelle scienze dell'uomo – Natur und Kultur in den Geisteswissenschaften, Oberhausen (2017), im Druck
Albrecht Classen (University of Arizona) has two symposia to announce:
1. Fantasy and Imagination in the Middle Ages and Early Modern Time, May 2-5, 2019: https://aclassen.faculty.arizona.edu/content/2019-16th-symposium
and
2. Symposium on Africans in Europe and Europeans in Africa
https://aclassen.faculty.arizona.edu/content/symposium-africans-europe-and-europeans-africa
April 4-7, 2019
Toleration and Tolerance in Medieval and Early Modern European Literature. Routledge Studies in Medieval Literature and Culture, 8 (New York and London: Routledge, 2018), viii, 329.
Eros und Logos: Literarische Formen des sinnlichen Begehrens in der (deutschsprachigen) Literatur vom Mittelalter bis zur Gegenwart, ed. Albrecht Classen, Wolfgang Brylla, and Andrey Kotin. Popular Fiction Studies, 4 (Tübingen: Narr Francke Attempto, 2018), 342.
Travel, Time, and Space in the Middle Ages and Early Modern Time: Explorations of Worldly Perceptions and Processes of Identity Formation, ed. Albrecht Classen. Fundamentals of Medieval and Early Modern Culture, 22 (Berlin and Boston: Walter de Gruyter, 2018), XIX, 704.
Japanisch-deutsche Gespräche über Fremdheit im Mittelalter: Interkulturelle und interdisziplinäre Forschungen in Ost und West, ed. Manshu Ide and Albrecht Classen. Stauffenburg Mediävistik, 2 (Tübingen: Stauffenburg, 2018), 231. 40 b/w ill.
Mediaevistik: Internationale Zeitschrift für interdisziplinäre Mittelalterforschung, vol. 30 (Berlin, Bern, et al.: Peter Lang, 2017; appeared in 2018)
and collaborated with
Reiner Cornelius, Gunhild Classen, and Albrecht Classen, Zur Rhön hinauf (Niederaula: Auwel-Verlag, 2018)
Glenn Ehrstine (University of Iowa), "Raymond Peraudi in Zerbst: Corpus Christi Theater, Material Devotion, and the Indulgence Microeconomy on the Eve of the Reformation," Speculum 93 (2018): 319-56.
Glenn Ehrstine, "Eine meisterliche Fälschung? Zum Warning'schen Begriff der Pseudokommunikation." InAmbivalenzen des geistlichen Spiels. Re-Visionen von Texten und Methoden, ed. Jörn Bockmann and Regina Toepfer, 65-77. Historische Semantik 29. Göttingen: Vandenhoeck & Ruprecht, 2018.
CJ Jones (University of Notre Dame) has won a Humboldt fellowship for 18 months of support. She will be under the sponsorship of Jutta Eming at the Freie Universitat Berlin for May-July 2019, May-July 2020, and academic year 21-22. The award supports her second monograph, tentatively titled "Washing the Altars: Shaping Religious Community in Medieval Holy Week Ritual."
Sabine Seelbach(Alpen-Adria-Universität Klagenfurt), Angelika Kemper (Eds.): Documenta mnemonica Bad. 3. Zentrale Gedächtnislehren des Spätmittelalters. Eine Auswahl von Traktaten mit Übersetzung und Kommentar. Berlin, Boston: De Gruyter 2018 (= Frühe Neuzeit Band 217); 452 S.;ISBN: 978-3-11-056451-8.
The SMGS News & Reviews is edited by Ernst Ralf Hintz (Truman State University).
We wish to thank our technical expert, Ben Ogden, for his expertise in providing the online version with both readability and elegance. We also wish to thank the Department of Classical & Modern Languages and the School of Arts and Letters at Truman State University for their support of this publication.
The SMGS readership continues to grow steadily as is the interest in receiving the SMGS News & Reviews online. Should you wish to contribute to the section on SMGS News from Colleagues or if you know of a colleague who would be interested in membership (there are no dues), you may contact me by at ehintz@truman.edu, or write to the following address: Ernst Ralf Hintz, German and Medieval Studies, Truman State University, Department of Classical & Modern Languages, McClain Hall 310, Kirksville, MO 63501-4221 (U.S.A.).
The Fall/Winter issue of the SMGS News & Reviews appears in late 2019.
On behalf of Evelyn Meyer, Alexandra Sterling-Hellenbrand, Joseph M Sullivan and Ernst Ralf Hintz,
All good wishes from SMGS for spring 2019!