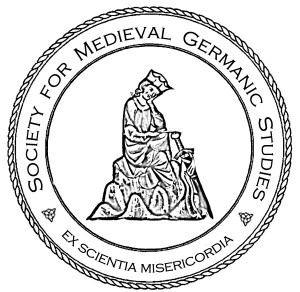 Dear Colleagues,
The Society for Medieval Germanic Studies is sponsoring three sessions at the 53rd Congress on Medieval Studies in Kalamazoo May 10-13, 2018. For another year, we wish to thank our SMGS Organizers, Tina Boyer (Wake Forest University) and Adam Oberlin (Princeton University) for their time and considerable efforts in assembling this year's program of new research.
Table of Contents
SMGS Sessions at Kalamazoo 2018
New Books Roundtable
The Sidney M. Johnson/Ulrich Müller Award for 2018
SMGS Review
SMGS Sponsored Sessions at Kalamazoo 2018
Organizers: Tina Boyer (Wake Forest University)
                   Adam Oberlin (Princeton University)
Medieval Badges
(118 Thursday 3:30 p.m. Schneider 1325)
Presider: Claire Taylor Jones (University of Notre Dame)
Visual Communication and Community Formation in the Middle Ages: Medieval Badges
Ann Marie Rasmussen (University of Waterloo)
Pewter and Silver Badges of Our Lady of Grace: New Sources on the Holy Site of Scheut
Hanneke van Asperen (Radboud Univ. Nijmegen)
Badges as Signs of Identification and Partisanship
Torsten Hiltmann (Westfälische Wilhelms-Universität Münster)
New Research in Medieval Germanic Studies
(246 Friday 1:30 p.m. Schneider 1275)
Presider: Adam Oberlin (Princeton University)
Ob es were tag? Hugo von Montfort's Watchman without Portfolio
Alexander Sager, (University of Georgia)
Poetics, Semantics, and Metaphor in Germanic Cognates from the Root *nauþi
Pete Sandberg (University College London)
A New Tool for Teaching and Learning Old Saxon
Marc Pierce (University of Texas-Austin); Colin Brown (University of Texas-Austin)
The Good Saracens in Medieval Literature: Expression of Orientalism / Imperialism or Early Forms of Toleration?
Albrecht Classen (University of Arizona)
New Books Roundtable
 
Nota Bene: The New Books Roundtable this year will be Friday afternoon,
(3:30 p.m. Schneider 1275)
Presiders: Adam Oberlin (Princeton University) and Stephen Mark Carey (University of Minnesota)
Wood and Water: Ecocritical Perspectives on Medieval German Literature
Speaker: Albrecht Classen (University of Arizona)
The Sidney M. Johnson/Ulrich Müller Award for 2018
Pete Sandberg (University College London) is the recipient of this year's Sidney M. Johnson/Ulrich Müller Award. SMGS recognizes the best abstract submitted by a graduate student or a recent graduate student who has since received a doctorate. We strongly encourage the submission of abstracts beginning September 2018 for the 2019 award.
Books received for Review
Sight of Semiramis: Medieval and Early Modern Narratives of the Babylonian Queen, Alison L. Beringer, ACMRS Publications, 2017. ISBN: 978-0-86698-542-0.
Ruling the Spirit: Women, Liturgy, and Dominican Reform in Late Medieval Germany, Claire Taylor Jones, U. of Pennsylvania Press, 2017. ISBN: 978-0-81224-955-2.
The Medieval Risk-Reward Society: Courts, Adventure, and Love in the European Middle Ages, Will Hasty, The Ohio State University Press, Columbus, 2016.
ISBN: 13-978-8142-1303-2.
SMGS Review
The Forest in Medieval German Literature: Ecocritical Readings from an Historical Perspective, Albrecht Classen, Lexington Books: London, 2015.
ISBN: 978-0-7391-9518-5.
As a student in Heidelberg I often climbed to the Philosophenweg to look down at the Neckar and wander through the forest, only stopping at the Celtic fortifications to imagine the sight of Roman legions marching over the horizon ca. 50 BCE. Classen shares in this fascination for the forest. Looking at the transformative agency of the forest spanning classical works from Hartmann, Wolfram and Gottfried to late medieval texts from The Pleier and Konrad von Würzburg, to early modern works represented by Königen Sibille of Elisabeth von Nassau-Saarbrücken and Thüring von Ringoltigen's Melusine, the author offers us a valuable ecocritical analysis and interpretative approach. Yet, the motivation for researching this area is not purely academic: "The burning question in medieval studies centers nowadays very much on how we can motivate our students to pay attention to literary texts from the premodern era, how to make them relevant again, or how to preserve their traditional role within the larger canon of Western literature." (16) In doing so, Classen reevaluates the iconographical meaning of sylvan space for medieval culture in terms of "symbol, value and metaphor." In the author's words: "… I will simply ask what the forest mattered for a variety of medieval German poets and how they utilized that space for their specific purposes in the development of the characters and the plot." (17) The forest as a "biotope sui generis" that captivates eco-friendly people today will hardly have interested medieval poets, yet the forest had a demonstrative narrative function that was more than mere backdrop. Analyzing Tristan from an ecocritical perspective, Classen calls our attention to the highly neglected dynamic quality of the forest. "In terms of narratology, … the forest as a fictional space provided Gottfried with a great opportunity to explore existential challenges and to outline how the protagonists cope with fundamental conflicts pitting them against the mores of courtly society." (119) Accordingly, this dynamic quality of the forest often signals an imminent transformative change that is about to overtake the protagonist(s). Classen observes further that the forest as cultural and literary motif goes beyond a simple binary concept of light and darkness, good and evil. Sylvan narrative iconology can be fluid and complex to reflect a central tenet of good literature and life itself—ambiguity. The author convincingly demonstrates the centrality of this notion in his analysis of Thüring von Ringoltigen's 15th-century rendition of the tale of Melusine. The reader will also find the photograph of the 1483 "Memorial Stone Cross" near the Wartburg illustrative as it depicts the wild boar and inadvertent killing of Emrich by Reymund. (192)
In sum, the book is well written and researched. Classen introduces us to a useful literary approach that enables us with greater precision to see the forest for the trees. I am certain the reader will enjoy reading Classen's ecocritical study of The Forest in Medieval Literature as much as I did.
Ernst Ralf Hintz (Truman State University)
SMGS Reviews
Reviews to appear in the Fall/Winter edition of the SMGS News & Reviews
News from Colleagues
You are welcome to submit news of papers presented, articles and books written, promotions and new positions to SMGS for the next edition.
Helmut-Brall Tuchel (Heinrich-Heine-Universität Düsseldorf) has new publications.
Helmut Brall-Tuchel, Anke Peters: "Krankheiten die man nicht heilen kann", in: Bechmann, Sascha (Hrsg.) Sprache und Medizin. Interdisziplinäre Beiträge zur medizinischen Sprache und Kommunikation, Berlin 2017, S. 373-397
Helmut Brall-Tuchel, Jerusalem im Pilgerbericht Arnolds von Harff (1496-98), in: Jerusalem in Aachen – "Aachener" in Jerusalem. Mittelalter und Frühe Neuzeit. Vorträgedes Studientages in Aachen am 5. November 2016, Hrsg. Vom Geschichtsvereinfür das Bistum Aachen e.V., Neustadt a. d. Aisch, 2018 (Geschichte im Bistum Aachen – Beiheft 9, S. 145-170)
-, Arnold von Harff: Ritter – Pilger – Dichter, in:  Karlheinz Wiegmann (Hg.): Aufbruch in die Ferne. Mit Gladbacher Reisenden durch die Jahrhunderte, Mönchengladbach (2017), S. 36 – 45
-,  Orientdiskurse in der deutschen Literatur des Mittelalters, in: Germanistische Studien. Eine Zeitschrift des Vereins Deutsche Sprache, Nr. 11, Dortmund/Tiflis (2017), S.180-195
-, Stadt – Land – Fluss. Zum Verhältnis von Kultur und Natur in frühhumanistischen Reiseberichten, in: Elmar Schafroth, Domenico Conte (Hgg.): Natura e cultura nelle scienze dell'uomo – Natur und Kultur in den Geisteswissenschaften, Oberhausen (2017), im Druck
Margarete Springeth has announced a new handbook.
Neidhart und die Neidhart-Lieder. Ein Handbuch. Hrsg. Von Margarete Springeth und Franz Viktor Spechtler, unter Mitarbeit von Katharina Zeppezauer-Wachauer. De Gruyter 2018. https://www.degruyter.com/view/product/211060
Jeffrey Turco was promoted to Associate Professor of German at Purdue University, and appointed Senior Fellow at the Martin Marty Center for the Public Understanding of Religion in the Divinity School of the University of Chicago for a one-year research leave. He was also elected to a five-year term on the MLA Executive Committee for Germanic Philology & Linguistics. He recently assumed the editorship of New Norse Studies: A Journal on the Literature and Culture of  Medieval Scandinavia, which will begin annual publication in 2019 in Cornell's Islandica series. Like all good Germans, Jeff briefly ran away to Italy and published an article earlier this year titled "Restaging Sin in Medieval Florence: Augustine, Brunetto Latini, and the Streetscape of Dante's Vita nuova," Italian Studies 73 (2018): 15-21. For the first time since joining the faculty at Purdue, Jeff will be offering a (happily, already fully enrolled) graduate seminar in MHG philology this fall.   Editor, New Norse Studies
The SMGS News & Reviews is edited by Ernst Ralf Hintz (Truman State University).
We wish to thank our technical expert, Ben Ogden, for his patience and expertise in providing the online version with both readability and elegance. We also wish to thank the Department of Classical & Modern Languages at Truman State University for its support of this publication.
The SMGS readership continues to grow steadily as is the interest in receiving the SMGS News & Reviews online. Should you wish to contribute to the section on SMGS News from Colleagues or if you know of a colleague who would be interested in membership (there are no dues), you may contact me by at ehintz@truman.edu or fax (660-785-7486), or write to the following address: Ernst Ralf Hintz, German and Medieval Studies, Truman State University, Department of Classical & Modern Languages, McClain Hall 310, Kirksville, MO 63501-4221 (U.S.A.).
The Fall/Winter issue of the SMGS News & Reviews appears in late 2018.
On behalf of Tina Boyer, Adam Oberlin and Ernst Ralf Hintz,
All good wishes from SMGS for Kalamazoo and summer 2018!